Ujumbe kutoka kwa mwandishi, Eric.
Indiegogo campaign: Complete. Mucho arigato to everyone who tweeted, shared, +1'ed and a special thank you to those who chipped in.  Every little bit is going to help. We genuinely look forward to taking this money and flying to Canada, where we shall disappear into the wilderness with 5k worth of Mountain Dew and play D&D in a small cabin until the body odor causes us all to die. I am personally looking forward to my 14k gold d20 crusted with sapphires and the soda I.V I'll have installed in my arm. 
So blah, blah, blah, I've waxed sentimental about the fun of gaming and doing LARP justice and all that noise. I love it all dearly. Gaming has brought me some of the best friends I've ever had, many who I met back in me days as a gameling and who I still play with today as a full grown gamer. CRAP, I'm getting sentimental again. The point I am trying to make, is that Damsels has the passion it needs to build it from the ground up. The only thing it was lacking, was hype, a fan base, interest, etc. . Once we got the word out that we were for realsies, that we were doin' this thang and that we needed help, we weren't sure what kinda response we would get.  In all honesty, when we launched the indiegogo campaign, we figured we would be able to raise enough to pay for gas when we headed out to locations, but that's about it. Don't get me wrong! It's not because we figured we didn't have something special that warranted attention. It's mostly because times are tight right now and even with some of the name talent we have on board, fund raising for an unheard of web series about something a majority of the population knows little to nothing about, presents a heckuva challenge. 
We set the bar kinda high, because a) the project is worth it and b) you never know! What if fricken Martin Freeman saw it during a break on set one day and was all like, "HERE! These are all my earnings from The Hobbit". BAM. Long shots are still a shot… though we acknowledge that this last scenario was about as likely as destroying the Death Star wielding only an ewok slingshot, courtesy of the 6-again rule in the Star Wars RPG from West End Games. (Google it).
One thing we absolutely did not anticipate, was hitting $5,310. If I could, I would award you all a hefty chunk of xp on top of the massive THANK YOU I would be screaming into your face. But since I am not overly fond of pepper spray and xp does you no good irl, I shall instead promise that the funds we raised with your help are going to make for a very entertaining web series about one of the more obscure hobbies, long over due for some play. 
Role Models doesn't count. 
Thank you, thank you, thank you. To all of you, even if you just read about it and checked in from time to time, thank you.
The campaign not only brought us some financial power, but also got us noticed by some impressive creative forces in the web world. As Damsels & Dragons moves on to the next phase of its development, you can look forward to some insights and maybe even a few surprises from the developing team and its cast. 
Until then…  
…uuuuuuntil… okay. I want to pause for a second and say, that from the time I began this entry until this supposed final line, a man named Daniel Yuan swooped in  and made our final total jump from $5,310… to $6,310. 
Daniel. Sir. This is for you.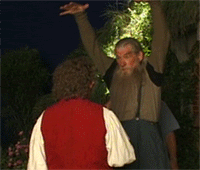 That's what I'm talkin' about. 
Summation: Damsels is going to be bad ass/amazing/ full of win. 
And it's thanks to all of you.
With Sincere, Deep and Abundant Gratitude,
Eric Campbell
Writer